More Than 5 Years of Experience
Your Local Dumpster Rental Specialist
More Than 5 Years of Experience
Handi Can Dumpster Rentals
Mid-Michigan Dumpster Rentals
Handi Can Dumpster Rentals is a family-owned business ready to serve in Midland, Michigan, and offer superior services for our clients. Our dumpsters are the ideal solution for strategically and safely picking up trash and debris. The size and depth make it suitable for large cleanups, remodeling, trash removal, demolition and construction waste, driveway, roof replacement, and yard cleanup.We haul dumpsters to your residential or business location. Handi Can Dumpster Rentals offers rentals of 5, 10, 12 and 20-yard dumpsters to accommodate our customer's specific needs. Select the size that best suits your project and schedule a delivery today!
How Our Services Work

Schedule your dumpster rental via email, Facebook, Instagram, or by calling or texting (989) 625-4290. Schedule your appointment with us by checking our availability and if your preferred day and time appear outside the available plans.
We will ask you for essential information over the phone to schedule your delivery at a time that best suits your project.
Now the booking process is complete. One of our friendly staff members will set up an account with payment information and reserve a dumpster for the desired date.
When you have finished using your dumpster or filled the container and need an exchange, call us, and we will pick it up or trade the container for a new one.
BOOK AN APPOINTMENT

Need a dumpster rental? Please call us at (989) 625-4290 or via email, text, Facebook, or Instagram. We do this through easy and flexible scheduling.
WE DELIVER

Get prompt delivery from drivers trained to the highest standards of safety and professionalism.


UPFRONT PRICING

Handi Can Dumpster Rental makes pricing easy. We do not charge any hidden fees.
WHAT WE OFFER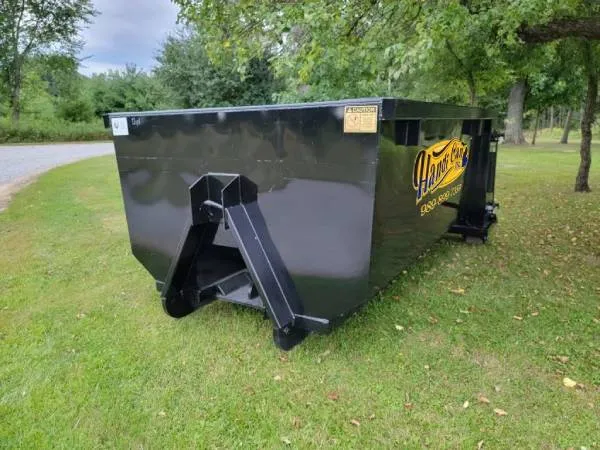 RESIDENTIAL DUMPSTERS

Residential dumpsters are best for home improvement projects, house cleaning, and general junk removal. Fill the dumpster with carpets, furniture, clothes, boxes, toys, and more. Handi Can Dumpster Rentals is ready to meet your home renovation and cleaning needs. We have various sizes of dumpsters available to meet the needs of your next project. Whether it's a home remodeling, landscaping project, or spring cleaning, our trucks are close by and ready to get you the dumpster you need. We pride ourselves on providing efficient, reliable, and safe service.
COMMERCIAL DUMPSTERS

Our dumpsters are an affordable and convenient way for small businesses to service waste production. We offer same or next-day pickups and dumpster exchanges to maximize the efficiency of your project. Our dumpsters are the perfect size for areas with a small to medium workspace, enclosed spaces, and jobs in residential or commercial areas where size matters. Schedule your dumpster at (989) 625-4290.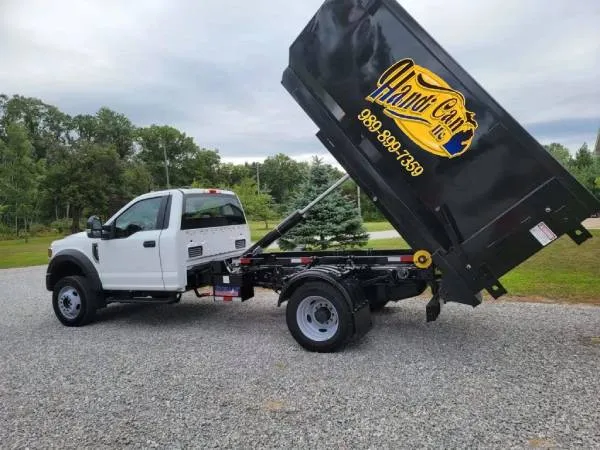 CONSTRUCTION DUMPSTERS

Handi Can Dumpster is changing how debris from various sources is handled. We offer dumpster rental for construction debris such as roofing, building materials, wood, insulation, etc. Our services make responsibly disposing of charged construction debris easy so that you can focus on the crucial parts of your undertaking. Call us today to schedule the perfect budget-friendly solution for all your construction disposal needs. Finally, by delegating Handi Can Dumpster with both commercial and residential waste removal areas serviced, we guarantee swift yet safe transportation of all materials.
FAST & RELIABLE DUMPSTER RENTAL
The workhorse of every home, commercial building, or renovation job is a dumpster. It is the ideal solution for collecting trash and debris strategically and safely. The size and depth of a dumpster make it suitable for significant cleanups, waste and rubbish removal, remodeling, demolition, construction debris, roof and driveway replacement, yard cleanup, and renovations after a storm, fire, or flood. At Handi Can, we provide first-class service for dumpster rental in Midland, Michigan, to businesses, warehouses, construction contractors, and private property owners. Whether you need a short-term rental or long-term service for an ongoing project, our family-owned and operated company can do the job. We have dumpsters of various sizes, which are measured in terms of cubic feet. In other words, we multiply the outside dimensions, i.e., length, width, and height, which gives us the volume of the container. Our dumpster rental services can save you time for large construction or demolition projects. With our help, you can keep working while we haul away the debris from your contracting project or construction.
WHY CHOOSE HANDI CAN Dumpster Rentals?
There are many reasons to choose Handi Can Dumpster Rentals for your dumpster rental needs for your home or property in Midland, Michigan. As a local dumpster rental company, we understand the challenges faced by other local businesses. Our job is not only to provide you with the dumpster you need to complete your next project but to do so with honesty and transparency through accurate quotes.
Professional Service
Our priority is delivering superior client services through constant communication and convenient scheduling options. So contact us today to schedule your dumpster rental!
Fast Delivery

When you partner with Handi Can Dumpster Rentals, you get access to our available dumpsters day or night. We provide timely scheduling and delivery services to accommodate our customers' schedules. In addition, our company has a range of dumpster sizes for you to choose from.
Licensed and Insured
Our team is fully qualified and certified, so you can trust our quality service with peace of mind.
Satisfaction Guaranteed

With our dumpster, you will not have to worry about any detail. Our goal is to provide you with the best service possible. So, whether you're cleaning out your garage or remodeling your home, we have the perfect dumpster for your needs!
OUR DUMPSTER RENTAL SIZES

Handi Can Dumpster Rentals offers dumpster sizes ranging from 5, 10, 12 and 20 cubic yards to fit all debris and junk removal projects. Any size is good for garage, property, household clean out. Look through our standard dumpster sizes to find the option for your job, or give us a call, and we'll ensure you get the right fit.
5 YARD

This dumpster is great for smaller cleanup projects. 1 ton of refuse is included in the rental.
10 YARD

This dumpster is great for small cleanup or construction projects. Roofing/shingles are allowed in this size dumpster. 2 tons of refuse is included in the rental.
12 YARD

This dumpster rental makes medium cleanups easy. 2 tons of refuse is included in the rental.
20 YARD

The 20 yard dumpster is the perfect choice for medium to large-scale construction projects, home renovations, and commercial cleanups. 2 tons of refuse is included in the rental.
OUR DUMPSTER RENTAL SIZES

HOME RENOVATION

Renting a dumpster can be a big help when renovating your home. Taking out cabinets, tearing down walls, and removing floors can generate much waste. With a dumpster rental for this residential project, you'll have plenty of room for all the junk. Plus, you won't have to take it to the landfill.


LANDSCAPING

Renting a dumpster can be handy if you're ready to rip out old plants and add new ones. You'll be able to get rid of all the debris, from the branches you prune from trees to the shrubs you pull up. Sometimes, you need to cut down an old tree, while other times, you need to clean up old mulch. Also, if you're going to fill more than a couple of trash bags, renting a dumpster can give you a central location for all the trash.

ROOF REPLACEMENT

While you'll most likely hire a professional company to replace your roof, renting a dumpster can make things easier if you do the work yourself. If you're removing shingles, you'll need a place to throw them away, and they can pile up quickly. Rent a dumpster; you'll have the perfect place for all the junk.
CLEARING OUT

Sometimes, we become hoarders and end up with too much junk taking up space. If you've filled up the garage, attic, barn, or basement, renting a dumpster can help. With a dumpster, you can throw out everything you don't want and forget it once it's in the dumpster. Then, when you're done, they'll take the dumpster away, and you won't have to dispose of anything.

GET STARTED TODAY
If you are new to dumpster rental, we will be happy to help you find the right size for your specific project. However, it is a priority for us that you receive the most up-to-date and competitive pricing and, of course, on-time delivery and pickup service.

Above all, Handi Can Dumpster Rentals provides our valued customers with the resources and attention they need and deserve to complete a successful project from start to finish. In addition, we offer fast order fulfillment and a realiable appointment system.

No matter the job size, we've got you covered with standard sizes to choose from, and we'll guide you if you need help determining what size you need for your cleaning task. Contact us today. We're here to help.

Handi Can Dumpster Rentals

We are passionate about what we do at Handi Can Dumpster Rentals in Midland, Michigan. With our dumpsters, we guarantee you will receive quality at the most reasonable price. Plus, we offer free, quick quotes on dumpster rentals when you send us an email, message us thru Facebook or Instagram or call or text us at (989) 625-4290.

Our dumpsters are the ideal solution for strategically and safely picking up trash and debris. The size and depth make it suitable for large cleanups, remodeling, trash removal, demolition and construction waste, driveway, and roof replacement, yard cleanup, and renovations after a storm, fire, or flood.



OUR MISSION

When it comes to a construction project, choosing the right dumpster rental company isn't at the top of your to-do list, and it shouldn't be! Our mission at Handi Can Dumpster Rentals is to make your experience with us simple. We value reliability, honesty, great value, and price transparency from our partners; we know these are also essential considerations for you. So call us now to learn about our convenient delivery and pickup options that will allow you to focus on your project without hassle.

Our professionally trained staff is ready to listen and provide the best recommendation for the right size container for your project. Our customers tell us that this can be the most nerve-wracking part of the dumpster rental experience, so know you're in good hands when you call us. Whether doing a simple landscaping project, cleaning up your backyard, or remodeling your kitchen or home, we can assure you that we have seen it all and recommend the right size dumpster.


Handi Can Dumpster Rentals
Disclaimer
Customers are responsible for ensuring suitable, obstruction-free conditions for delivery, placement, and removal of the dumpster rental. Handi Can Dumpster Rentals does not assume responsibility for damage to surfaces, exteriors, structural integrity, underground items affected by heavy objects, and aboveground items creating obstruction. Examples include but are not limited to:
Structures
Utilities and Utility Wires
Lawn and Landscaping
Trees
Septic Fields
Sprinkler Systems
Curbs
Sidewalks
Driveways
Get in touch with us today to opt for our high-quality dumpsters. Our communication lines are also open for any inquiries or concerns.
WANT AN ONLINE QUOTE?
Are you in need of an instant quote for one of your projects? No worries – we've got you covered. Reach out to us by email, and we will promptly respond. Or, call or text us for an immediate query. You can also reach us via Facebook or Instagram – friendly professional service at its best! Don't hesitate to take advantage of our expertise when fulfilling your needs.
GOT A QUESTION OR AN INQUIRY:
Call us at (989) 625-4290 or send us a message using the form below, and we'll get back to you as soon as possible.
Monday – Friday: 7:00 AM – 5:00 PM
Saturday: 8:00 AM – 12:00 PM
We are closed during federally recognized holidays.